A unique production of Henrik Ibsen's classic play AN ENEMY OF THE PEOPLE performs next week at the ADC Theatre. We spoke to the show's Director, MAGDALENA GABRYSIAK, about her approach to the show.
What should an audience expect from An Enemy of the People?
Maybe the answer to this is what shouldn't the audience expect!  What we are hoping to go for is a complete modernisation of Ibsen's play: changing the way it is presented, related to and also experienced. We want to insert an element of child-play to the drama so do expect a lot of colour and a lot of fun! 
At the same time, the audience can expect to be juggling the very dilemmas the characters are presented with themselves, we hope to bring to you an immersive experience for you to involve yourself in. Something that struck me during rehearsals is just how relevant Ibsen's play is in the modern setting– yet viewing it through the lens of a theatrical presentation allowed for room to rethink perspectives and ask questions. I hope that An Enemy of the People will be the space for people to ponder over such questions meaningfully. 
Your production of An Enemy of the People is set in the modern day. What is it about Ibsen's play that resonates with a modern setting?
The issues that Ibsen's play deals with are timeless: the debates over environment and public good are ever resonant in the modern-day context of Climate Change and free speech. The way Ibsen crafts the characters is extremely precise as well, he seems to inject them with both the beauty and ugliness of humanity that makes them come to life. Looking at Dr Stockmann's idealism as both admirable as well as destructive and dangerous: we can definitely think of him as a modern-day public figure.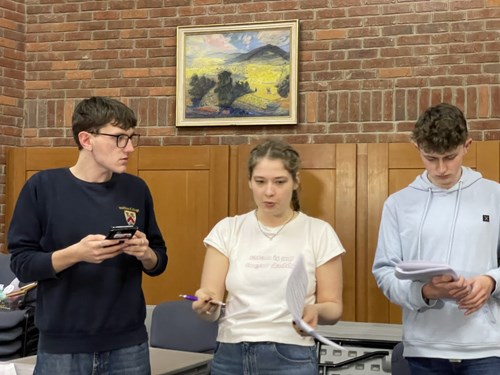 How have rehearsals been coming along?
We did start Zoom table reads over the winter break, but actual physical rehearsals didn't start until the beginning of January. And they are now coming along in full force, everyday. Rehearsals have been great! The actors are really talented so they are able inhabit Ibsen's characters and bring them to life for a new, modern audience. The energy has been really good as well.
Without spoiling too much, what is your favourite part of the show?
My favourite part of the show would be the segment where Paula Stockmann (Iona Rogan) gets into a physical scuffle with Dr Stockmann (Joe Harrington) over the Mayor's hat. It's really quite a marvellous scene because it adds that element of childishness and ridiculousness to a play that deals with such serious themes, altering the entire dimension of the drama.
But it is also a moment of intimacy between the two siblings, an interaction that is revealing about their complex and fascinating relationship. I suppose it summarises the big question Ibsen hopes to juggle as well: whether all these BIG political questions really do matter after all and if they do who do they matter for - the people bickering over them right now, or the future generation, in other words, the kids.
An Enemy of the People is performing at the ADC Theatre between Tuesday 1 and Saturday 5 February at 7.45pm