Every few months, the ADC Management team come up with cocktails that are themed around that season's shows. The Theatre's Manager, JAMIE RYCROFT, gives an exclusive behind-the-scenes look at the elusive process of how the cocktails are created.
Each season at the ADC Theatre has about seven Mainshows and each of them has a custom cocktail that you can buy at the ADC Bar for just £4 (or 2 for £7). Each cocktail is tailor-made for the show and are conceived during one (very long) evening where the ADC Management team tests out possible recipes and then comes up with a groan-worthy pun that connects it to the show.
Any process that involves creating cocktail names as great as Exit, Pursued by a Grizzly Bear (The Winter's Tale), One Singular Gin-sation (A Chorus Line), and More Ginned Against Than Ginning (King Lear), is clearly doing something right, but for the Summer season cocktails I thought we'd try something different. I got the ADC Technical Manager, Eduardo, to create a spreadsheet in which every single ingredient in the Bar is tested against each other (see below):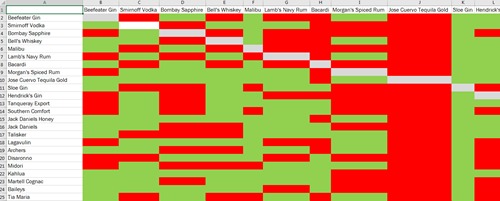 This would have proven to be a very expensive and wasteful way to try inventing cocktails and things went a bit wrong when the cleaning spray accidentally got into the list of ingredients, so we went back to the usual method, in which each member of Management makes a cocktail, gets the others to try it, and then argues for several hours about their relative merits and failures.
As the evening draws on and you realise just how little sleep you're going to get that night you sometimes wonder whether it's even worth coming up with these show cocktails? I wondered once whether we should ask the shows directly for suggestions for cocktail names, but then I realised that if I did that, I'd deny the ADC Management of the only opportunity for fun they're allowed to have all year.
But all those fears fade away when the Management team come up with some of the great cocktails that are coming up next season, like Rose-gin-crantz and Guildenstern (are Dead), and How to Disaronno Completely (and never be found).
It's the next day at work: I have a pounding headache, and just want to curl up in a ball underneath my desk. But I wouldn't change the way we choose our cocktails for the world.
Make sure to try out the latest cocktails at the ADC Bar: we are open from 7pm every night there is a show!