Each of our student shows has a Technical Director, whose job is to oversee and create the technical elements. We spoke to the Technical Director of upcoming show 'The Rise and Fall of Little Voice', GEORGE BATEMAN, about how he plans to burn down a house on-stage!
Little Voice is quite a challenging show to be the Technical Director for, because of the scale of the special effects. We've got to set up a two-storey house and burn it down, as well as displaying the house's continual electrical problems leading up to the fire. We decided to go for multiple different effects to portray the spread of the fire, starting with the iron which falls off a wall and catches fire, and escalating with a combination of smoke, projection, and actual flame.
This all takes a significant amount of planning. For example, where the actual flame comes near the set, we've had to make structures out of metal which would normally be wooden.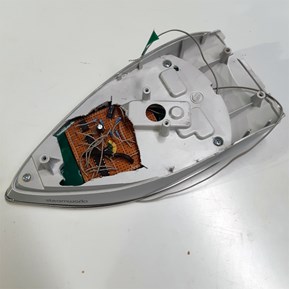 This iron has two different features: it's got a hand-soldered circuit to flicker a chain of LED lights and simulate flame, and a miniature smoke machine embedded inside. Once the effects are all over, the stage management team has to quickly come on and spray-paint everything black to convincingly portray a burnt-out house just a few minutes later.
Bringing all this to fruition requires working together with different people in their area of expertise, so the lighting, set and effects all match up and it matches the director's vision. We hope you enjoy it as much as we have!
The Rise and Fall of Little Voice is performing at the ADC Theatre between Tuesday 28 January and Sat 1 February at 7.45pm