Our two-week production of SINGIN' IN THE RAIN has the arduous task of making it somehow rain on the stage. We spoke to the show's Technical Director, MARIA CLEASBY, to find out how this special effect is being achieved.
Making it rain indoors and onstage is a mammoth undertaking, but when it's quite literally in the title of the show, we really had no choice. It is possible to do Singin' in the Rain without real rain, but we were clear from the beginning that if we were doing this, we were going to do it properly. There are no half measures, no tricks of light or projection - what you will see on stage is 750 litres of water falling, as if from the sky, onto 22 umbrella-clad cast members (while they're singing, of course).  
 I knew as soon as I submitted my application how much work this was going to be but also how rewarding it would be to see it come to life onstage; I also knew there was absolutely no way I was doing it alone. At the beginning of term, I was lucky enough to assemble a fantastic team who, despite often disagreeing on their calculations, have all contributed hugely to the effect you will see on the stage. The overall design for the system began in my application for the show, after I spent an inordinate amount of time googling 'rain on stage', and the details of the system have been narrowed down since the beginning of term. We started with 3D modelling, then building in small sections to make sure each area worked individually.
The process has largely fallen into four areas: storage, supply, distribution and drainage. For some, the answers really just involved money - we knew we probably couldn't build more secure storage than a tank designed to store water, even if it did have to be quite ridiculously big. For supply, research was the name of the game, our incredible team sat through three hour zoom meetings, debating flowrates and pressure and trawling through the manuals of waterpump.co.uk. We needed to get water approximately 10 metres off the ground and with enough pressure that it would actually create rainfall rather than just a measly drip, but not so much pressure that it would burst the pipes. At the same time, we had to make sure the noise of the pump wasn't going to steal the show. Eventually, after several missteps, trips to Screwfix and an entire day of testing - we had a supply system that would (theoretically) pump water high enough, quiet enough and fast enough to be used during the performance. 
The idea for the distribution came from watching a concerning amount of YouTube videos from people who'd attempted something like this before. We drilled holes in standard garden hosepipe, attached it to wood fittings so the holes were facing upwards and then covered the whole section with rounded guttering. Not only does the water hitting the guttering mean it falls in a more natural, rainfall pattern, but it also contains all the water at height, meaning we can place electrical items, like stage lights, close to the rain without having to worry about water and electrics (historically a bad combination). 
The drainage was the biggest and most concerning factor. Those who've been around the ADC for a few years might remember #FloodTheStage which did in fact, flood the stage, and also some of the surrounding theatre. Attempting to learn from the past, we developed a plan that involved building our own raised false floor section of the stage. The surface is gently sloped with a drainage gutter tucked away at the back that carries the water to our own custom drainage tank. From there, a secondary pump returns water to the storage tank, making an (almost) entirely self-contained system. Just before the guttering is a depth stop which allows the water to pool slightly for maximum splash effects but is also removable for minimum flooding.
With all this in place, however, we were still dealing with a floor that had to be waterproof and yet non-slip and thin enough for dancers to tap on it. Another hefty Zoom call and discussion of roofing membranes, dance floors and marine-grade paint later and we settled on vinyl flooring with caulking or silicon sealant to seal the joints, a little like you would find in your kitchen or bathroom.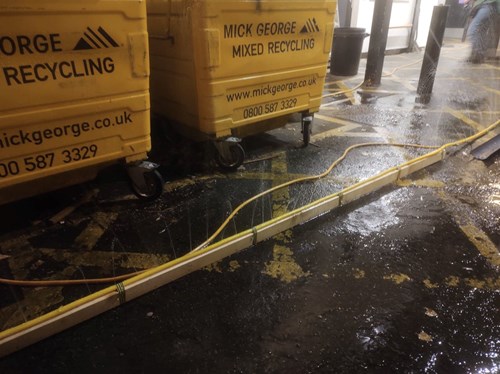 The way things work at the ADC, we won't be able to fully test the system until just before the show but so much time, thought and anxiety has already gone into this effect that we cannot wait to share it with you. Raincoats recommended. 
Rain Team:
Maria Cleasby
Samuel Porter-Frakes
Jeremy Zolnai-Lucas
William Ashton 
Annabelle York
Sameer Aggarwal
Singin' in the Rain is performing at the ADC Theatre between Wednesday 16 and Saturday 26 March