E.M. Forster's classic play MAURICE is being staged next week as part of LGBTQ+ history month. The show's Director, ELL AITKEN, discusses the process of bringing the show to the stage.
E.M Forster's original manuscript was dedicated 'To a happier year', as he felt he could not publish this work in his lifetime. In his Terminal Note, he expresses that he does not believe the Wolfenden Report (a law to decriminalise homosexuality) will go through, and that Parliament would never publicly approve homosexuality. Forster was writing in the wake of Wilde's trial, in which he had seen how expressing 'the love that dares not speak its name' could cause an individual to be publicly arrested. It is due to all of this that Maurice was only released posthumously, in 1971, and he was never able to see a wide-scale public change of opinion and acceptance of homosexuality.
I discovered Maurice in Michaelmas term of my first year and, after mishearing my DOS' recommendations to read 'Ian Forster', I found the novel and it became one of the most influential stories in my life. The thing that stuck with me was its relatable presentation of gay life, from those lost by forcing themselves into compulsory heterosexuality, to the feelings of loneliness and self-hatred that society can invoke from its heteronormativity. Yet, one of the most unique qualities of Maurice is that it gives its gay characters a happy ending together. While Forster struggled with the potential of having them die towards the end, as previously seen in his other attempts to write gay fiction, he asserts that for Maurice 'a happy ending was imperative', claiming:
'I was determined that in fiction anyway two men should fall in love and remain in it for the ever and ever that fiction allows, and in this sense Maurice and Alec still roam the greenwood.'
Even in today's media it is a struggle to find stories that treat its queer characters fairly, with the infamous 'Bury your gays' trope seemingly everywhere. But, this idea of the greenwood, which Maurice describes in the play as 'of a band of many outcasts, getting away somewhere' stands out, offering a pastoral ideal away from an oppressive society in which gay men could live and love freely.
In 1987, Maurice was made into a film directed by James Ivory - this is how most people first heard the story, largely due to an almost cult following. While it was exciting to see the early performances of stars like Hugh Grant and Rupert Graves, this film mainly made an impact on me by seeing Cambridge represented visually. They largely shot on location in King's College and, as a gay fresher, it was incredible to see a period representation of Cambridge with two men in love.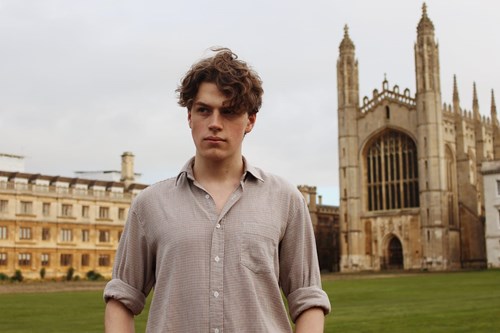 It's been a privilege to discover and work on this stage adaptation by Parsley and Graham. It poses a unique challenge as a 'story of the struggle of a human spirit to be free from the constraints of a hypocritical and prejudiced society', which they have chosen to represent in a 'continuous experience for the audience with each succeeding scene flowing as seamlessly as possible from the previous one'. I think this is a really effective way of telling Forster's story, with Maurice remaining on stage for the majority of the show, allowing the audience to follow his story more intimately. It also provides additional moments of pathos in these seamless transitions, with the bed in which Maurice shares his first intimate encounters transforming to the site in which he wishes to be cured of his homosexuality through hypnotism. This provides a challenge for both cast and crew, thinking about how physicality can show a different setting against a set that does not change, while crew have had to think about how lighting and sound can be used to indicate a different location, while still retaining a more naturalistic production.
Something that's been important to me in this production is not simply retelling the movie, but trying to think about how I can differentiate this production from others. We're in a unique position to tell this story in Cambridge, with the place that inspired the story over a century ago being just a minute from the Corpus Playroom. As Cambridge students, we also have a unique insight into the environment Maurice finds himself thrust into, and it's been incredible to present that. It's also been great to be able to develop other elements of the story, such as the idealisation of the working classes. As this is one of the more problematic qualities in the text, something I've encouraged is thinking about how we can develop characters like Scudder, giving him more agency as an individual who accepts Maurice, posing a clear contrast to Clive whose focus on aesthetics causing him restraint in being able to fully love.
This has been the most rewarding show to work on - as well as historical significance, we have an incredible cast and crew who are bringing so much to the show. As someone relatively new to directing, I've already learnt so much from being in the rehearsal room and it's been amazing to apply this. It's been daunting to have the significance of the work and the legacy of the film in the back of my mind, but I'm really proud of how we've been able to make it our own
When I think about Forster, it saddens me to know that he didn't live to see Maurice published, and the large public opinion shift on homosexuality. In his terminal note, he laments the futility of pushing for this, claiming that 'the greenwood ended catastrophically and inevitably'. While I'm not sure how far the greenwood still exists in our climate, it brings me comfort to know that there will always be a way for Maurice to find his happy ending, whether in the words of his fiction, or in defiantly holding hands with Scudder in the Corpus Playroom. With these performances, especially in LGBT history month, I hope we can make good on that dedication, showing him what a 'happier year' can look like.
Maurice is performing at the Corpus Playroom between Tue 18 and Sat 22 February at 7pm