NOT EVEN THE DOGS is a show based on the true story of Jewish archivist Emanuel Ringelblum, which is being devised from scratch over the course of this term. We caught back up with the show's Director, JOSH BAUMRING-GLEDHILL, to find out how rehearsals have been developing.
What has changed about the show in the last couple of weeks?
Not a lot's necessarily changed but we're beginning to find a really specific language and set of rules by which to tell our story. Some of the ideas we had at the beginning of the process, especially some of the sequences we thought would be essential, turned out to be less effective than we thought they would be, and so we tried to create the same emotional beats using different sequences. We've also started experimenting with using projections in the rehearsal room and various Jewish songs to help underscore and push the action along. 
We've also begun focusing a lot more on the props and objects we will be using in the show. There will be a microphone and we started to play around with how we could use not only the microphone itself but the mic stand and the wires. We're also playing around with the use of paper and stones during the show.
I think we still need to work out how best to tell a story that is essentially about writing interviews and observations and make it dynamic and interesting for an audience to watch. We're not quite there yet but I think we're on the right track!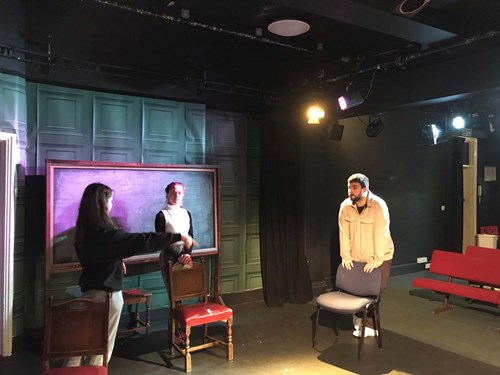 What material are you currently working with?
We're still working with a lot of the same stuff. We keep going back to the archives but we're starting to increasingly use poems in rehearsals and beginning to incorporate verbatim passages more into the piece itself. We've also been looking at some pictures that our wonderful movement director and cast member Dominika took during her visit to Warsaw where there is an exhibit about the Oyneg Shabes. We have been looking at her pictures of the actual milk churn as well as various quotes on the walls of the exhibit from members of the archive. We've also been looking at stock footage from the Ghetto as well as radio broadcasts from the time to help us better understand the lived experience of those who we are representing. 
We're also playing lots and lots of games! Whether it's our Lecoq, Berkoff, pretending to be different objects or even using some classic drama games like 'Sevens' and 'Three Things', we are using these games to fuel our creativity in the afternoon.
What are you currently most excited about?
I'm really excited to see how we're going to end the show. We've sort of been building a skeleton of material over the last few weeks to act as a base before we put the muscle on. We're quite close to the end of the actual history and we have a lot of ideas as to how to end the show. I'm just excited to test all those ideas out and see what we come up with!
Not Even the Dogs

 

is performing at the Corpus Playroom between Tuesday 15 and Saturday 19 March