The multi-award winning musical ONCE opens on 5 April and tells the unforgettable story of a Dublin street musician and a piano-playing Czech immigrant drawn together by their shared love of music. Over the course of one fateful week, an unexpected friendship quickly evolves into a powerful but complicated love story. We sat down with the cast and creatives of ONCE to talk about this uplifting, modern-day musical that reminds us of the power of music to connect us all.
Tell us about your involvement in the show
Cat Nicol: I'm directing but also producing for Between the Bars Theatre so it's a mix of the creative side of things plus the more operational stuff - sorting rehearsal venues, liaising with the theatre and dealing with the licencing company.
James Harvey: As musical director, I'm in charge of getting the music to a high standard. In an actor-musician show, there's the added challenge of finding people who can sing, act, and play an instrument all at the same time. When we started talking about the show, I was worried whether we'd be able to find the right people who played the right instruments, but then they all came through and it fell into place. Now, with a few weeks left, they basically run themselves as a band.
It's strange because we won't need to have a sitzprobe for this show, which is normally the cast's favourite rehearsal because it's the first time they hear the band and get to hear the full music.  But in this show everyone has had their instruments throughout so we've had the joy of hearing the music played by the band at every rehearsal!  It also gives our sound engineer immense challenges; because our cast are all carrying their instruments around with them they have to be wirelessly mic'd for both singing and playing.  Fortunately, we have Nick Hall on board as our sound engineer. We're not worthy of him!  He's a consummate professional who makes everything fun and also makes the show sound amazing.
Andrew Ruddick: I'm playing Guy, one of the aforementioned actor-singer-musicians. At the start of the show, he's in a bad place, creatively and  emotionally. He's written amazing music but his life and his music is not going anywhere and he's on the verge of giving up. Then, this far too friendly and enthusiastic Czech lady stops him on the street and gives him a new lease of life
Danielle Padley: I play said crazy Czech lady, Girl!  She's a pianist, she's also come from a difficult place. Her partner is in the Czech Republic, but she's moved to Dublin with her daughter and mother to make a new life. I think at the beginning we see her try to bring some hope back to Guy when she sees him busking on the street. She loves music, and can see that he's a great musician, and they form a connection.
I've loved rehearsals. I get to play piano and then sit and listen to our incredible ensemble play all of this amazing music!
Andrew: Musically, Danielle and I have it so easy compared to our ensemble.  They have to work hard on so much complex stuff but they make it look easy. And because they're playing everything, they know the entire show, and they never go offstage.
Cat: I don't think I really appreciated how challenging it would be for the cast to play musical instruments on top of everything else….!
James: But everyone seems to be getting so much out of it and they all contribute different things. We've got someone like Sam who's a musician and never really been onstage before but has also learnt to play the accordion for this show!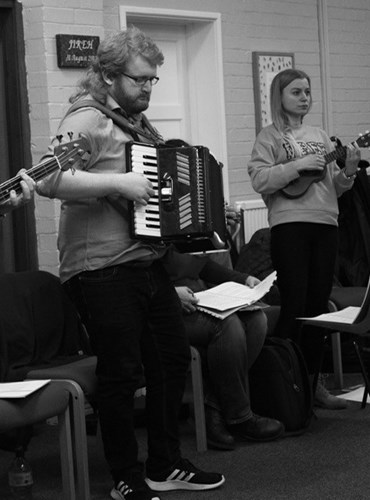 Andrew: And then there are some people we've known for years who, as it turns out, have amazing musical skills and can also play things like the viola!
When did you first hear about Once?
James: I first saw the film a few years back and was dimly aware that there was a musical of it too, but I hadn't seen it. It wasn't until I was approached to MD the show that I looked into it properly. It's relatively new, the amateur licence hasn't been around long…
Cat: I think it was June 2021 that it became available for groups to perform. We're the first amateur group in the East of England to perform it. I thought we might have been the first in the UK but apparently other groups have snuck in!
Danielle: I went to see the show on Valentine's Day in 2014, with Ronan Keating in it. In the interval I turned to my now-husband and said "I have to play that part!" and that was that.
Andrew: I was aware of the film for ages, just as a fan of film, but didn't watch it until October 2020. I'd already heard Falling Slowly as my wife had played it for me, and Danielle and I have talked about singing it together for years.
Cat: Warren (who plays Billy in our production) introduced it to me. I'd seen that it was on in London and didn't think it would be my kind of show, but Warren saw it, loved it and recommended it so I decided to go and just thought it was brilliant. It's stayed with me ever since.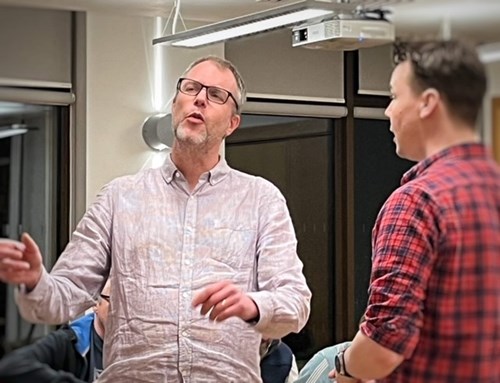 Tell us about Between the Bars Theatre Company
Cat: We set up Between the Bars around 2010.  At that time, there were really only amateur groups producing large, popular musicals in Cambridge, and no non-student groups putting on smaller or less well known shows. Our aim was to provide opportunities for people to get involved with different kinds of shows and also encourage new writing.  We've done various things since then, including taking new plays up to the Edinburgh Fringe, but we produced our first full-scale musical, Dogfight, in 2017 also at the ADC. The amateur theatre scene in Cambridge is now a lot more varied than it was in 2010 but basically we like to do shows that we find interesting and which are less likely to be done by other town groups.
What's your favourite song from the show?
Cat: I love so many of them!  'Sleeping' is really lovely, but for me it has to be 'Falling Slowly (reprise)' - it starts off just Girl and Guy, then the other musicians come in, then when everyone joins in the singing it's just beautiful.
Danielle: I love 'Gold (a capella)', it sounds so good. I listen to the words and the harmonies, and I can just picture the sea!
Andrew: I love 'North Strand' - it has this big joyful sound.  It's a weirdly positioned song; for all intents and purposes it's an overture, but it comes about 15 minutes into the show. In rehearsals, it was the first time we heard the full band play, and it was amazing.
James: That was also the first song we played from memory and the moment I think when we realised we had something great on our hands. 'Falling Slowly (reprise)' does have to be my favourite too, and I love that it bookends the show and we hear it at the beginning and the end.
Why should people come see Once?
James: I think it's what everyone wants to hear right now. It's a show about two people fixing each other and leaving each other better off than how they started.
Danielle: When I saw it in the West End, I had no preconceptions of what it would be like, and was expecting quite a moody show from the poster. Actually though it's joyful and funny.
Andrew: I was really surprised by how funny it was. Distractingly funny for Danielle and I, sometimes!
James: For a show about two people in a bad place, it could easily have been something that wasn't much fun to see. But it's so well written and the humour just cuts right through it.
Andrew: It's so hopeful. It's about learning how to live a new life, even if it's not the one you intended to have. It's timely - we're all trying to work out what we do from this point onwards. In a way, it's about a group of people trying to find a new normal.
Cat: What's key for me is we're never told who Guy and Girl are. The writers could easily have given them names, but they didn't, and I think that's because their story is universal.  It's a story that we can all relate to - a connection made with another person that has a significant impact on our life.  I think it's particularly poignant now having come through the pandemic - that was a time when we all really needed that connection but we were told to stay away from other people.
In a nutshell, it's a show about the importance of forming bonds with other people, and how that helps us all to find a way through.  It's brilliant, it's funny, it has fantastic music, and of course our brilliant cast!
Once plays at the ADC Theatre between Tuesday 5 and Saturday 9 April 2022