PARTITION is a play based on the real-life mathematicians Srinivasa Ramanujan and G. H. Hardy, which performs at the Corpus Playroom next week. We caught up with the show's Co-Directors, LOUISE DAI and RISHI SHARMA, to find out more.
What should an audience expect from Partition?
Louise Dai (co-director): It's set in Cambridge in the early part of the 20th century, so hopefully a lot of the play will be familiar with a local audience, although the historical aspect gives it a very different feel. It's also very different given the backdrop of World War I and the political climate of the 1910s. So this play is a mix between the familiar and unfamiliar.
Rishi Sharma (co-director): It's also an intensely character-driven play about a strange relationship between two mathematical geniuses. It's both a friendship and a scientific collaboration, but it's never really one or the other. In that way, I think it's very reflective of relationships in real life: they don't always fit into particular categories of 'friend', 'mentor', 'collaborator' or similar. 
This is a play that deals with a lot of big ideas: not only in mathematics but also religion and culture. How have you navigated those while directing the play?
Louise: When I pitched the show, I knew I needed to talk to someone with the relevant cultural background, so getting Rishi on as a co-director was very useful. We also had some fruitful discussions on the religious background in the play: Hardy is a very staunch atheist whilst Ramanujan is a devout Hindu, and that informs their relationship with mathematics to a huge extent.
Rishi: I drew on my background a lot with this play: I had this joke with Louise where I'd say I have to go and do 'primary research' but it was actually me texting my mum about the questions we had. 
Louise: A big part of working on this play has been meeting people in Cambridge theatre with different backgrounds. I was really happily surprised at the start how many people were interested in the mathematical side of the play, and this specifically attracted some very talented people like Ariel de la Garza who is one of our associate directors, as well as Isaac Allen who plays Billington.
Rishi: For me it's also nice to have a story about an Indian person where they are taken seriously. A lot of times, Indian characters in western media are comic relief, or out of place. It's nice to be unapologetically at the centre. Although Ramanujan struggles with the cultural divide, and it's sometimes comedic, he's always treated with respect.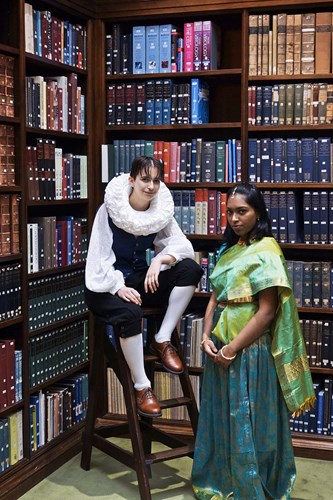 How have rehearsals been coming along?
Louise: They've been going well! It was particularly nice to be back in Corpus because I haven't done anything there for two years, and it's nice to be reminded of the idiosyncrasies and intimacy of the space. It's lovely to be blocking in it again and crafting the image of what we want the audience to see. 
Rishi: Louise and I work great together because we come from very different backgrounds theatrically: she's done a lot more tech theatre but hasn't acted as much, whilst I did a lot more acting before I joined Cambridge and started directing. I've loved working with the actors on this show, especially given the variety they offer, from the pantomime of Charli Foreman's portrayal of Fermat to the emotional naturalism of Renuka Chintapalli's character of Namagiri. The actors also have varying levels of experience both inside and outside Cambridge theatre, which leads to a great rehearsal environment. Vinith Bhandari, for example, writes and performs poetry at open mics, and it's amazing to see him draw on that skillset in his role as Ramanujan. Everyone's always learning from each other. On the topic of variety, this play has everything from long monologues to sharp dialogue, from comedy to tragedy, from naturalism to fourth-wall breaking surreal weirdness. It's a bit of a cosmic mix, and it keeps us on our toes as a team.
Louise: It's particularly nice to be thinking about physicality again after zoom rehearsals. It allows us to subtly communicate all the nuances of these characters and their relationships with one another. I love asking myself how much more we can do beyond the words we're given in the script. I've also loved working with people who have different levels of experience: they often have fresh perspectives which completely transform a show.
Without spoiling too much, what is your favourite part of the show?
Rishi: My favourite part is the ending, but I can't spoil it here, so you'll have to come to the show! Other than that it's been amazing to direct a Hindu goddess onstage. It's aesthetically refreshing, but I've also enjoyed her dynamic with Ramanujan. We wanted their relationship to be casual and personal, rather than one-sided, and the challenge of getting that across was a lot of fun.
Louise: For me it's been really getting to know the character of Hardy. I feel like I really relate to him in many ways, and I've enjoyed working on his character with Cian Morey, the actor playing him. The script gives us a lot of freedom where it comes to how it deals with Hardy, and we've really embraced that.
Partition is performing at the Corpus Playroom between Tuesday 1 and Saturday 5 February at 7pm