Want to know more about what the ADC Theatre will be like when we re-open? Read this to find out!
On the 25 May, the ADC Theatre will re-open after having been closed since the end of 2020. When we re-open, we will be following social distancing restrictions for as long as they persist. You can find out more detail about how social distancing will work at the ADC Theatre here, but we also wanted to take the opportunity to explain the process of watching a show at the ADC, from booking a ticket to sitting in the auditorium.
Booking a Ticket
When you book a ticket (which can be done in person, online or over the phone), you will be able to book either an individual seat, or a block of seats for you to sit in along with members of the same household.
Unlike when we re-opened in Autumn, you now have the ability to pick your position in the auditorium. The seating blocks are colour-coded, reflecting the number of people that can sit in a block: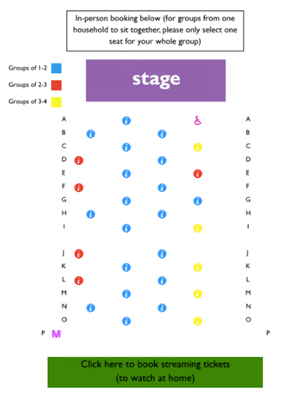 For safety purposes, face coverings must be worn by all audience members. If you have a medical exemption, we have a maximum of one seat available per performance which is socially distanced enough for someone to not need to wear a face covering. Please call our Box Office at 01223 300085 if this applies to you, and we can set you up on our system. 
More information about how to book a ticket can be found here.
We are also livestreaming many of our shows for you to be able to watch from home if you'd prefer. Click here to find out more.
Arriving at the Box Office


We recommend that you arrive at the Theatre around 7.15pm for an ADC Mainshow, and about 10.30pm for an ADC Lateshow, to ensure that you arrive in plenty of time to order your drinks and take your seat before the show begins.
When you arrive at the Theatre, an usher will ask each member of your household that is above the age of 16 to either check in on the NHS Test and Trace app, or, for those without the app, to provide your name and contact details.
If you have bought an e-ticket or have already collected your ticket, you will be able to go straight up to the auditorium when it is open. If you need to collect your tickets, you will be able to do this at the Box Office before going up to the auditorium. For ease of social distancing, there is a one-way system up to the auditorium, so we recommend using the Front of House toilets if necessary before going up to take your seats.
Ordering your pre-show and interval drinks

As you make your way up to the auditorium, you will walk past the entrance to the Bar, where you will be able to order a drink or snack, and place an interval order for drinks or ice cream. Due to capacity limits, the bar will only be operating an order and collection service where you will be able to take your drink into the auditorium to enjoy at your seat. You can take your mask off temporarily when seated to have a drink, but for the safety of others, please remember to replace it between sips.
Taking your seat

When you get to the top of the stairs, an usher will direct you to your pre-brooked seats in the auditorium. In order to comply with 1m+ distancing, our seating plan is designed such that your party will be sat at least 1m away from other guests, and we kindly ask you to keep your mask on for the duration of the show.
Otherwise, sit back and enjoy the show!
The Interval
ADC Mainshows will have an interval, in which you will be able to go to the toilets or collect an interval order that you have placed at the Bar. There is a one-way system in place in order to maintain social distancing, so make sure to follow the directions provided by our staff and ushers.
Any Questions?
We have provided some answers to your Frequently Asked Questions here.
If you have any questions or comments, please do not hesitate to email the ADC Theatre Manager, Jamie, at manager@adctheatre.com