Want to know more about what the Corpus Playroom will be like when we re-open? Read this to find out!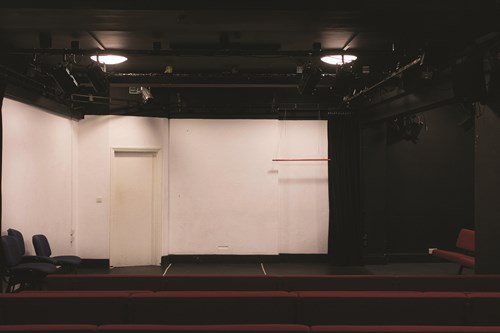 On the 24 May, the Corpus Playroom will re-open after having been closed since March 2020. When we re-open, we will be following social distancing restrictions for as long as they persist. You can find out more about how social distancing will work at the Corpus Playroom here, but we also wanted to take the opportunity to explain the process of watching a show at the Playroom, from booking a ticket to taking your seat in the auditorium.
Booking a Ticket
When you book a ticket (which can be done in person at the ADC Box Office, online, or over the phone), you will be able to book as many tickets are there are members of your household attending. Seating is unreserved and audience members will be told where to sit when they arrive.
For safety purposes, face coverings must be worn by all audience members. If you have a medical exemption we have a maximum of one seat available per performance which is socially distanced enough for someone to not need to wear a face covering. Please call our Box Office at 01223 300085 if this applies to you and we can set you up on our system.
Arriving at the Playroom
We recommend that you arrive at the Corpus Playroom at 6.45pm. This should be the time when the doors to the auditorium open and you will be allowed in. Before this point, you will need to queue outside the venue.
When the doors are open you will be directed to the auditorium, though if you need to use the Front of House toilets please inform a member of staff. This corridor will have a strict one-in, one-out policy.
An usher will ask each member of your household that is above the age of 16 to either check in on the NHS Test and Trace app or, for those without the app, to provide your name and contact details.
Taking your seat
Your seat in the auditorium will be socially distanced at least 1m from all other audience members, including those who are also in your household, and we will fill the auditorium from the far side, to that nearest the Box Office.
At 7pm, the show will begin. We hope that you enjoy it!
Any questions?
We have provided some answers to your Frequently Asked Questions here.
If you have any questions or comments, please do not hesitate to email the ADC Theatre Manager, Jamie, at jamie@adctheatre.com