ADC Theatre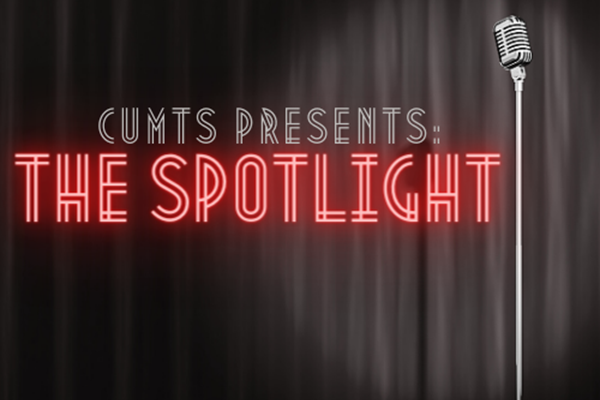 Tue 15 June
Cambridge University Musical Theatre Society
CUMTS Spotlight
Streaming tickets are only available for viewers in the UK.
Musical theatre is back and better than ever! Whether you're a newcomer or a veteran, Cambridge University Musical Theatre Society's The Spotlight offers performers a chance to take to the ADC stage and belt out one of their favourite musical theatre songs. Such high-quality performances in such a supportive, relaxed atmosphere makes this event unique in the theatre calendar: a chance to showcase some incredible talent both old and new, over a wide range of songs and styles, with a live accompaniment. No, that's not too good to be true (though you'd be excused for thinking that) - that's CUMTS: The Spotlight, and it's not to be missed!
Performing in the show:
Tom Baarda: Grow For Me (Little Shop of Horrors)
Chani Merrell: Gimme Gimme (Thoroughly Modern Millie)
Ella Nevill: The Mad Hatter (Wonderland)
Joe Venable: What's Gonna Happen (Tootsie)
Georgia Rawlins: Someplace Safe (Life with You)
Charis Lister: Burn (Hamilton)
Sumei Bao-Smith: Green Finch and Linnet Bird (Sweeney Todd)
Mabel Hoskins: The Life of the Party (The Wild Party)
Linseigh Green: Go Back Home (The Scottsboro Boys)
Jonny Whiting: Losing my Mind (Follies)
Emilia Grace: Dead Mom (Beetlejuice)
Tickets
£8/£9 | STREAMING £4
The ADC Theatre is Britain's oldest University playhouse, today administered and maintained by the University of Cambridge. Plays have been presented on the site since 1855, when the Cambridge University Amateur Dramatic Club (CUADC) was founded, and the society met and performed in the back room of the Hoop Inn, which stood almost exactly where the ADC Theatre stands today.  Today, the ADC Theatre is the centre of University drama in Cambridge, run almost entirely by students with no Faculty involvement. 

Access
When you arrive at the ADC Theatre, there are power assisted doors to the Box Office. In the foyer there is a lift which leads up to the bar and auditorium. The accessible toilet is located on the ground floor across the foyer. 
The ADC Theatre is conveniently located near the Park Street Car Park, which has 7 disabled parking bays.
If you are booking a wheelchair seat in the ADC auditorium for the first time, please call the Box Office on 01223 300085 or email access@adctheatre.com. We will then alter the permissions of your ADC account so that you can access the wheelchair seats on our website when you book in the future. 
Complimentary tickets are available for full-time carers.
The ADC Theatre and Corpus Playroom is fitted with an infra-red audio system designed to help deaf and hard of hearing patrons. If you are using the system for the first time, please arrive early and seek advice from our Front of House team.
Assistance dogs are welcome in both of our venues. Please call the Box Office or email the above address when booking to ensure you are seated appropriately.