Corpus Playroom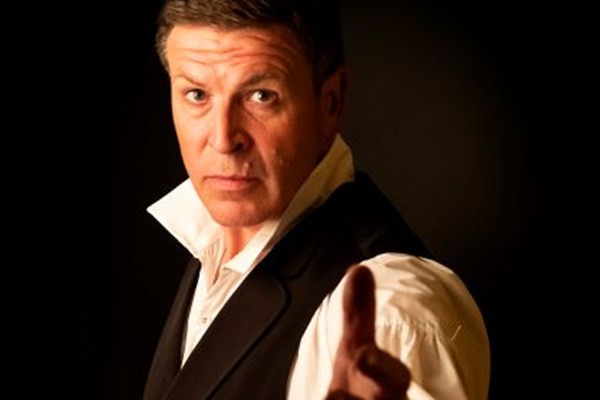 Fri 21 - Sat 22 April
Mark Stratford
Drama King: Charles Dickens' Theatrical Friend
This compelling new solo show, written and performed by Mark Stratford, tells the story of William Charles Macready, one of the greatest actor-managers of the 19th Century. The story of Macready – the man to whom Charles Dickens dedicated Nicholas Nickleby – is one of the most remarkable ever to come out of the Theatre.

With passion, humour, emotion, and an array of characters, Stratford takes us on a journey through the fascinating world of Victorian theatre and the extraordinary, yet conflicted life of Macready; from his first tentative steps on stage in a tatty country theatre to his final ever performance at the mighty Drury Lane!

And, as this year marks the 150th anniversary of Macready's death, the production also pays a timely tribute to this theatrical pioneer who did so much to influence our theatre of today.

"I wish I were anything rather than an actor – except a critic; let me be unhappy rather than vile!" - William Charles Macready

This production is recommended for ages 12 and above.


Special Offer: Book to see both 'Drama King' and 'The Strange Case of Dr Jekyll and Mr Hyde' on the same night and receive a £5 discount.
"Stratford's remarkable ability to tell Macready's story and create characters brings it all to life."
"The play shows us the many ups and downs of Macready's career and it's gripping to watch."
Reviews for Mark Stratford's other solo show 'Jekyll & Hyde':
"This is 75 minutes of the most effective theatrical storytelling…It is a truly mesmerising performance."
"In Mark Stratford's highly accomplished hands…the storytelling is as clear as it could possibly be…Stratford is a very talented actor."
"Stratford delivers an acting masterclass."
"Stratford's stellar performance carries the play"
Times
Fri 21 April at 9:30pm
Sat 22 April at 9:30pm
Tickets
£9 student, £10 concession, £11 adult (£5 off the second ticket if see both shows on the same night)
The Corpus Playroom is owned by Corpus Christi College, and managed by the University of Cambridge through the ADC Theatre. The College drama society, the Fletcher Players, are the resident company.
The L-shaped studio is Cambridge's primary fringe space, showcasing a variety of productions, with an emphasis on new writing. Seasons are programmed simultaneously with the ADC Theatre.
Access
Please note: This venue is not wheelchair accessible. More information can be viewed here.
Complimentary tickets are available for full-time carers.
The Corpus Playroom is fitted with an infra-red audio system designed to help deaf and hard of hearing patrons. If you are using the system for the first time, please arrive early and seek advice from our Front of House team.
Assistance dogs are welcome in both of our venues. Please call the Box Office or email the above address when booking to ensure you are seated appropriately.
The Corpus Playroom has gender-neutral toilets.
Address
Corpus Playroom
10 St Edward's Passage
Cambridge
CB2 3PJ
Get directions