ADC Theatre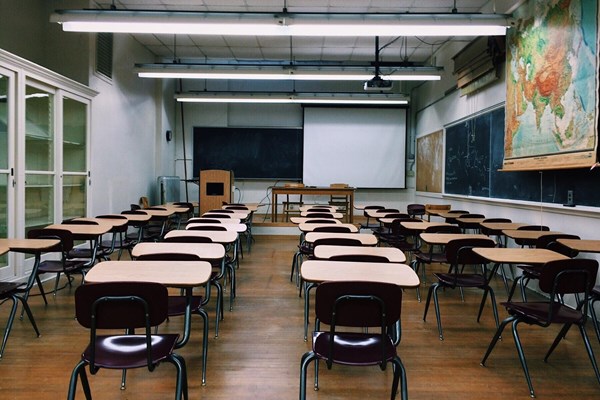 Wed 16 - Sat 19 November
Education, Education, Education
The Wardrobe Ensemble
It's the 90s - Tony Blair has just won the election, Katrina and the Waves have won Eurovision, and no one knows who Harry Potter is. Oasis is king - Britain is the coolest place in the world.

At the local secondary school it's a different story. Tobias, the German language assistant, watches as this ordinary school goes through an era of immense change. Miss Belltop-Doyle can't control her year 10s, Mr. Pashley has been put in charge of a confiscated Tamagotchi, and Miss Turner is hoping that this muck-up day goes smoother than the last.

Devised by the Wardrobe Ensemble, Education, Education, Education is a love letter to the school system, childhood nostalgia, and really bad club music. Things can only get better.


This amateur production is presented by an arrangement with Nick Hern Books.

Times
Wed 16 November at 11:00pm
Thu 17 November at 11:00pm
Fri 18 November at 11:00pm
Sat 19 November at 11:00pm
Tickets
WED–THU £7–£10, FRI–SAT £8–£10.50
The ADC Theatre is Britain's oldest University playhouse, today administered and maintained by the University of Cambridge. Plays have been presented on the site since 1855, when the Cambridge University Amateur Dramatic Club (CUADC) was founded, and the society met and performed in the back room of the Hoop Inn, which stood almost exactly where the ADC Theatre stands today.  Today, the ADC Theatre is the centre of University drama in Cambridge, run almost entirely by students with no Faculty involvement. 

Access
When you arrive at the ADC Theatre, there are power assisted doors to the Box Office. In the foyer there is a lift which leads up to the bar and auditorium. The accessible toilet is located on the ground floor across the foyer. Further information can be found here.
If you are booking a wheelchair seat in the ADC auditorium for the first time, please call the Box Office on 01223 300085 or email access@adctheatre.com. We will then alter the permissions of your ADC account so that you can access the wheelchair seats on our website when you book in the future. 
Complimentary tickets are available for full-time carers.
The ADC Theatre and Corpus Playroom is fitted with an infra-red audio system designed to help deaf and hard of hearing patrons. If you are using the system for the first time, please arrive early and seek advice from our Front of House team.
Assistance dogs are welcome in both of our venues. Please call the Box Office or email the above address when booking to ensure you are seated appropriately.