Corpus Playroom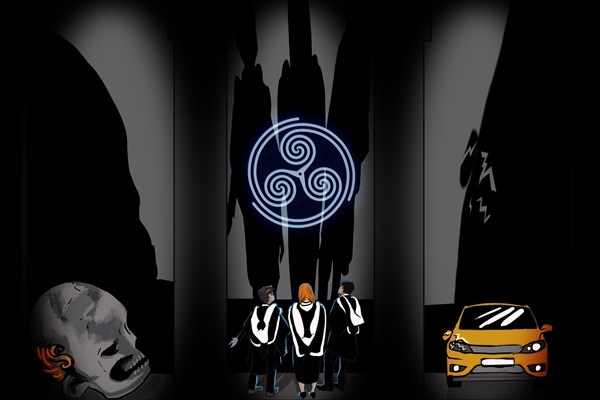 Tue 7 - Sat 11 December
WRiTEON
The Shadows
Content warning [May contain spoilers]
Please click on the words 'Content Warning' above to see a list of content notes for the show. 
A strange scent… An eerie sound in the darkness... A hauntingly quiet memory… What did you just see in The Shadows?

Down a narrow alley, through a creaky old door, in a confined space, a truly terrible event awaits those who dare to set foot in the Playroom.

A new twist on tales of old; an uncomfortably intimate, unique horror experience that is not for the faint-hearted.
Are you brave enough to endure three terrifying Cambridge stories which will take your breath away?

ACQUISITION by Sara-Jane Arbury
Jenny has arrived for a talk at the Fitzwilliam Museum. She's escorted by custodian Jeff, but the lift isn't coming and the lights aren't working. Dark fears rise to the surface, and both seem haunted by echoes of the past. Then the present takes a more sinister turn...
THE CHAMBER by Matt Wilkinson
Three students have wangled their way into an old, abandoned, and supposedly haunted chamber under St John's College. But is it really as empty as it looks? What do those strange marks on the walls mean? And why do they keep getting dizzy?   Perhaps there are some doors that should never be opened… 
DRIVE by Leigh Chambers
A woman with a guilty secret seeks refuge in a hotel room, but soon discovers that there's nowhere to hide when those beyond the grave want vengeance, and are willing to use all their powers to get it. 

The show runs without interval and contains strobe lighting.
Times
Tue 7 December at 7:00pm
Wed 8 December at 7:00pm
Thu 9 December at 7:00pm
Fri 10 December at 7:00pm
Sat 11 December at 7:00pm
Abuse (physical, mental, verbal, sexual)
Suicide
Kidnapping 
Death and/or dying
Jump scare
Flashing images
Visible (fake) corpse
Psychological horror
Claustrophobia
Prolonged darkness
Haunting
The Corpus Playroom is owned by Corpus Christi College, and managed by the University of Cambridge through the ADC Theatre. The College drama society, the Fletcher Players, are the resident company.
The L-shaped studio is Cambridge's primary fringe space, showcasing a variety of productions, with an emphasis on new writing. Seasons are programmed simultaneously with the ADC Theatre.
Access
Please note: This venue is not wheelchair accessible. 
Complimentary tickets are available for full-time carers.
The Corpus Playroom is fitted with an infra-red audio system designed to help deaf and hard of hearing patrons. If you are using the system for the first time, please arrive early and seek advice from our Front of House team.
Assistance dogs are welcome in both of our venues. Please call the Box Office or email the above address when booking to ensure you are seated appropriately.
The Corpus Playroom has gender-neutral toilets.
Address
Corpus Playroom
10 St Edward's Passage
Cambridge
CB2 3PJ
Get directions