ADC Theatre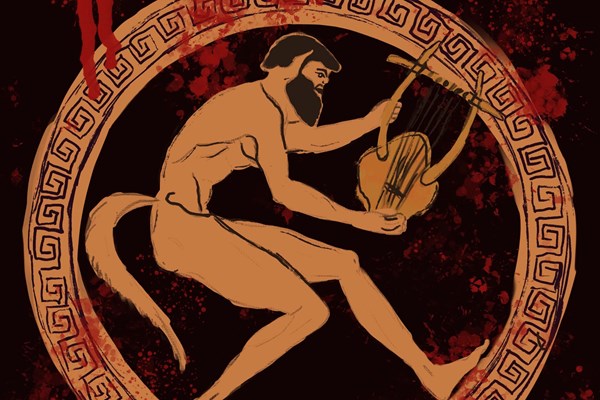 Wed 22 - Fri 24 June
The Trackers of Oxyrhynchus
Tony Harrison
Content warning [May contain spoilers]
Tony Harrison's masterpiece in verse theatre, voted one of the best 100 plays of the twentieth century, The Trackers of Oxyrhynchus brings Sophocles' missing satyr play Ichneutae to life.

This rowdy, riotous comedy begins in the sands of Egypt as Grenfell and Hunt, two Oxford dons, become obsessed with discovering the lost play. Hunt is relegated to reading petitions to governors and receipts for loans, whilst Grenfell becomes possessed by the god Apollo, as he gets closer to finding the fragments. Harrison brings to life the story of the first lyre and the dancing, swearing, unruly satyrs who tracked it down. No sooner had they found it, they were banned by Apollo from ever producing music again.

The play asks who controls history and culture? What receives orchestral recitals and what is noise pollution? Who's allowed to tell their own tragedy?

This performance is recommended for audiences aged 15+

This amateur production is presented by an arrangement with Faber.
Times
Wed 22 June at 11:00pm
Thu 23 June at 11:00pm
Fri 24 June at 11:00pm
Tickets
WED £8–£10, THU–FRI £8.50–£10.50
excessive or gratuitous violence
blood
drugs/alcohol/substance abuse
comic fake-nudity
death and/or dying
abuse (mental, verbal, physical, sexual)
torture
The ADC Theatre is Britain's oldest University playhouse, today administered and maintained by the University of Cambridge. Plays have been presented on the site since 1855, when the Cambridge University Amateur Dramatic Club (CUADC) was founded, and the society met and performed in the back room of the Hoop Inn, which stood almost exactly where the ADC Theatre stands today.  Today, the ADC Theatre is the centre of University drama in Cambridge, run almost entirely by students with no Faculty involvement. 

Access
When you arrive at the ADC Theatre, there are power assisted doors to the Box Office. In the foyer there is a lift which leads up to the bar and auditorium. The accessible toilet is located on the ground floor across the foyer. Further information can be found here.
If you are booking a wheelchair seat in the ADC auditorium for the first time, please call the Box Office on 01223 300085 or email access@adctheatre.com. We will then alter the permissions of your ADC account so that you can access the wheelchair seats on our website when you book in the future. 
Complimentary tickets are available for full-time carers.
The ADC Theatre and Corpus Playroom is fitted with an infra-red audio system designed to help deaf and hard of hearing patrons. If you are using the system for the first time, please arrive early and seek advice from our Front of House team.
Assistance dogs are welcome in both of our venues. Please call the Box Office or email the above address when booking to ensure you are seated appropriately.