ADC Theatre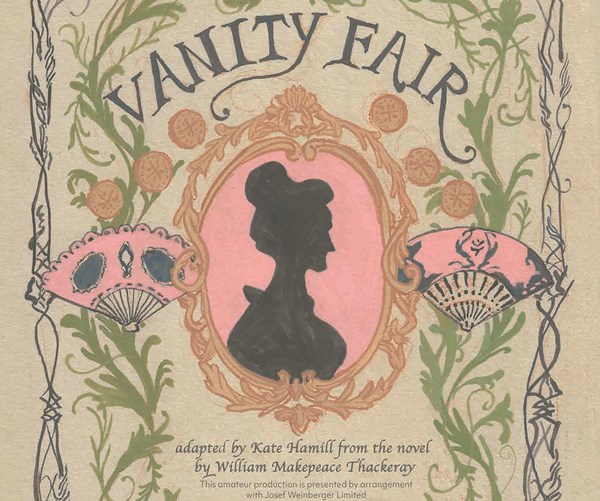 Tue 24 - Sat 28 May
Vanity Fair: an (Im)morality Play
Kate Hamill
Content warning [May contain spoilers]
Please click on the words 'Content Warning' to see a full list of content notes for this show
'We love and we hate, we lust and we mourn. And in the face of these immensities, do you still care? Do you still want what you want? Time can't stop us, death can't stop us, war can't stop us! The power of Vanity Fair!'
Amelia is kind and gentle. Becky is ambitious and rebellious. Amelia longs for love. Becky desires wealth and popularity. Despite their differences, when both women are swept up by the tides of romance, money, gossip, power, war, and death, they quickly discover that their fortunes can fall just as swiftly as they rise.

In the world of Vanity Fair, only one thing is certain - that nothing is certain.

This performance is recommended for audiences aged 12+

This amateur production is presented by an arrangement with Dramatists Play Service.
Times
Thu 26 May at 7:45pm
Fri 27 May at 7:45pm
Sat 28 May at 7:45pm
Tickets
TUE–THU £11–£14, FRI–SAT £12.50–£15.50
abuse (physical, mental, verbal, sexual)
death and/or dying
pregnancy and/or childbirth
racism
homophobia
transphobia
sexism
ableism
anti-Semitism
Islamophobia
war
brief depiction of assault
discrimination and/or bigotry (racism, sexism)
The ADC Theatre is Britain's oldest University playhouse, today administered and maintained by the University of Cambridge. Plays have been presented on the site since 1855, when the Cambridge University Amateur Dramatic Club (CUADC) was founded, and the society met and performed in the back room of the Hoop Inn, which stood almost exactly where the ADC Theatre stands today.  Today, the ADC Theatre is the centre of University drama in Cambridge, run almost entirely by students with no Faculty involvement. 

Access
When you arrive at the ADC Theatre, there are power assisted doors to the Box Office. In the foyer there is a lift which leads up to the bar and auditorium. The accessible toilet is located on the ground floor across the foyer. Further information can be found here.
If you are booking a wheelchair seat in the ADC auditorium for the first time, please call the Box Office on 01223 300085 or email access@adctheatre.com. We will then alter the permissions of your ADC account so that you can access the wheelchair seats on our website when you book in the future. 
Complimentary tickets are available for full-time carers.
The ADC Theatre and Corpus Playroom is fitted with an infra-red audio system designed to help deaf and hard of hearing patrons. If you are using the system for the first time, please arrive early and seek advice from our Front of House team.
Assistance dogs are welcome in both of our venues. Please call the Box Office or email the above address when booking to ensure you are seated appropriately.