Livestreaming
Find out more about how we will livestream our shows
We are excited to announce that we will be livestreaming the majority of our upcoming shows at the ADC Theatre! This ensures that our audiences are still able to access great theatre even during a time that we are restricting access to the auditorium.
Our ADC Mainshows and Lateshows will be livestreamed as well as performed to a socially-distanced audience.
Streaming tickets are cheaper than standard ticket prices and will give you a unique link to access a video of the show, which will be broadcast at the same time as it is happening in the Theatre.
Your log-in to view the livestream will be unique to you and you will not be able to pass it on to another person. You will be asked to select the size of the group watching the show. This group will then all need to watch the show on a single device. You can only purchase one livestreaming ticket per performance per account.
You can book a streaming ticket in person at our Box Office, by calling our Box Office at 01223 300085, or online. You will then able to watch the show at live.adctheatre.com
When you access the Livestreaming website, you will be asked to log in using the same email address and password that you used when booking a ticket: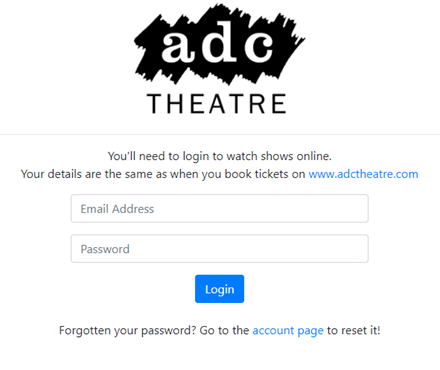 If you have forgotten your password, then go to your account page to reset it, and if you have any further difficulties, then call our Box Office at 01223 300085.
Once you have logged in, you will then be able to access the stream for the show, which usually starts about 10 minutes before the show itself is due to begin.
If you have any technical issues during the time that you are watching a livestreamed show, you can call our Box Office at 01223 300085, email streaming@adctheatre.com, or use the hashtag #ADCstream on Twitter.