Alumni
The impact of the ADC on British theatre is vast. Our alumni include Ian McKellen, Derek Jacobi, Simon Russell Beale, Emma Thompson, Stephen Fry, Hugh Laurie, Rachel Weisz and many many more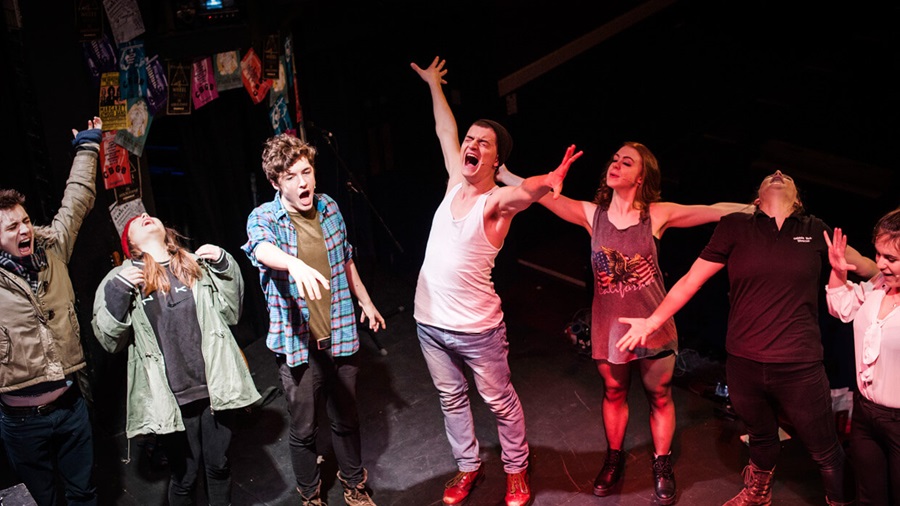 We boast an alumni list far longer than any other theatrical training ground.
The impact of the ADC on British Theatre is almost inestimable; four of the five directors of the National Theatre (Sir Peter Hall, Richard Eyre, Sir Trevor Nunn and Nicholas Hytner) are alumni of the Theatre. 
In the world of comedy too, names as diverse as Peter Cook, Monty Python, Stephen Fry and Hugh Laurie to more recent alumni such as David Mitchell and Robert Webb all learnt their craft here.
Many of our performers today will be the famous names of tomorrow.
| | |
| --- | --- |
| Morwenna Banks | Simon Russell Beale |
| Eleanor Bron | David Buck |
| Tony Church | Christian Coulson |
| Julie Covingron | Julian Curry |
| Sam Dastor | Kate Duchene |
| Robin Ellis | Stephen Fry |
| John Grilo | Roger Hammond |
| Phyllida Hancock | Terrence Hardiman |
| Tom Hollander | Sir Derek Jacobi |
| Simon Jones | Richard Kay |
| Christopher Luscombe | Miriam Margolyes |
| Daniel Massey | Sir Ian McKellen |
| Poppy Miller | Michael Pennington |
| Bryan Pringle | Corin Redgrave |
| Sir Michael Redgrave | Jonathon Cake |
| John Shrapnel | Clive Swift |
| Tilda Swinton | Emma Thompson |
| Justine Waddell | Ian Wallace |
| Bill Wallis | Rachel Weisz |
| Olivia Williams | Mark Wing-Davey |
| Peter Woodthorpe | Sarah Woodward |
| David Yelland | Hannah Yelland |
| | |
| --- | --- |
| Alexander Armstrong | David Baddiel |
| Sacha Baron Cohen | John Bird |
| Simon Bird | Tim Brooke-Taylor |
| Graham Chapman | John Cleese |
| Peter Cook | Hugh Dennis |
| Jimmy Edwards | John Fortune |
| Stephen Fry | Graeme Garden |
| Kit Hesketh-Harvey | Alex Horne |
| Eric Idle | Tim Key |
| Hugh Laurie | David Mitchell |
| Rory McGrath | Nick Mohammed |
| Ben Miller | Jimmy Mulville |
| Rob Newman | Steve Punt |
| Griff Rhys-Jones | Joe Thomas |
| Tony Slattery | Johnny Sweet |
| Sandi Toksvig | Robert Webb |
| | |
| --- | --- |
| Michael Apted | Annabel Arden |
| John Barton | John Boorman |
| Jez Butterworth | Richard Cottrel |
| Declan Donnellan | Dominic Dromgoole |
| Mark Elder | Sir Richard Eyre |
| Stephen Frears | Malcom Griffitds |
| Sir Peter Hall | Carev Harrison |
| Nicholas Hytner | David Jones |
| Jonathon Kent | Nicolas Kent |
| Jonathon Lynn | John Madden |
| Simon McBurney | Michael McCaffrey |
| Sam Mendes | Roger Mitchell |
| Robin Midgley | Jonathon Miller |
| Mike Newell | Trevor Nunn |
| Tony Palmer | Clive Perry |
| Steven Pimlott | David Poutney |
| George Rylands | Iain Softley |
| Tim Supple | John Trademan |
| Chris Weitz | Peter Wood |
| | |
| --- | --- |
| Douglas Adams | Clive Anderson |
| Mary Allen | William Allen |
| Cecil Beaton | Timothy Birdsall |
| Michael Birkett | Howard Brenton |
| David Brierley | AS Byatt |
| Alistair Cooke | Margaret Drabble |
| Sir John Drummond | Anthony Everitt |
| Julian Fellowes | Peter Fincham |
| Michael Frayn | Sir David Frost |
| Bamber Gascoigne | Mel Giedroye |
| Germaine Greer | Lee Hall |
| Nick Hancock | Sir David Hare |
| Norman Hartnell | Peter Hemmings |
| Clive James | Nathan Joseph |
| Chris Kelly | Tom Kempinski |
| Duncan Kenworthy | Raymond Leppard |
| Graham Marchant | Denis Marks |
| Matthew Mitchell | Jonathan James Moore |
| William Nicholson | Timothy O'Brien |
| Gary O'Connor | Bill Oddie |
| Nick Ormerod | Sue Perkins |
| Julian Pettifer | Jan Pienkowski |
| Sylvia Plath | Simon Relph |
| Tom Rosenthal | Nick Salmon |
| Peter Samuelson | James Sargant |
| Anthony Shaffer | Peter Shaffer |
| Julian Slade | Philip Steadman |
| Richard Stilgoe | Guy Woolfenden |
| Sir John Tooley | John Tusa |
| Michael Winner |   |