Corpus Playroom
Owned by Corpus Christi College, The Corpus Playroom is managed and run by the ADC Theatre.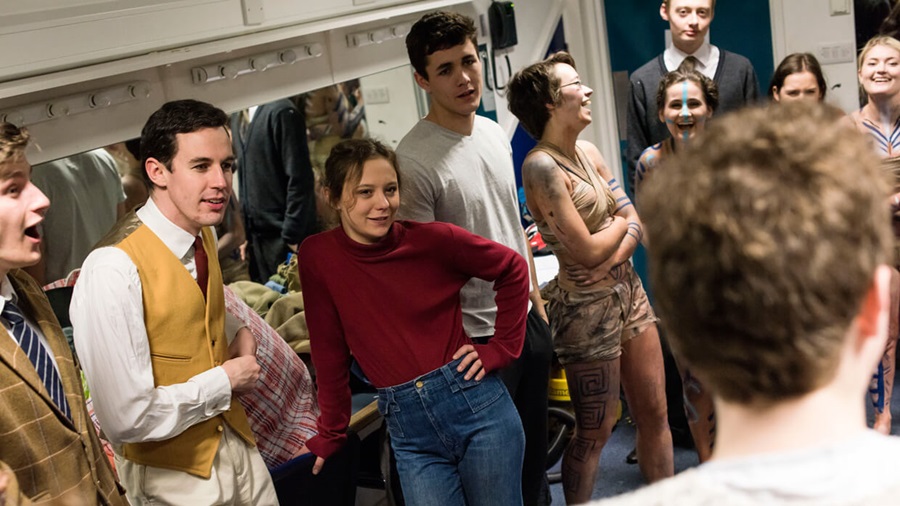 "I might be said to owe the Playroom everything"
The Playroom is owned by Corpus Christi College, and managed by the University of Cambridge through the ADC Theatre. The College drama society, the Fletcher Players, are the resident company.
The L-shaped studio is Cambridge's primary fringe space, showcasing a variety of productions, with an emphasis on new writing. Seasons are programmed simultaneously with the ADC Theatre.
During term there are normally two shows a night.
Founding
The Corpus Playroom was opened in 1979 in a pair of disused Corpus Christi rooms by Caroline Oulten and Mark McCrum. The Playroom was run for 22 years by the College drama society, the Fletcher Players. Productions were student-led and the Playroom fostered talents such as Hugh Bonneville, Sam Mendes and Stephen Fry. Stephen Fry wrote Latin! for the opening of the Playroom.
Cambridge Arts Theatre
The Fletcher Players and the Cambridge Arts Theatre ran the Playroom jointly for 10 years from 2001. By 2011, the venue had a earned a reputation among students second only to the ADC Theatre, and had been opened up to the wider Cambridge community.
Redevelopment
From 2010 to 2011, the Playroom witnessed a radical redevelopment including new seating, drastic improvements backstage, and the addition of a box office.
Individual donations allowed the replacement of the seats, and the significant refurbishment during the summer of 2011 was carried out by Corpus Christi College. The University of Cambridge, through the ADC Theatre, contributed over half of the £85,000 cost.
ADC Theatre
Today, the Playroom is managed by the ADC Theatre. The first year has witnessed a doubling in average audience numbers, and a higher calibre of production. The venue has retained its fringe feel, with student staff and productions. The Fletcher Players remain integral to the operation of the Playroom, helping programme Seasons, as well as producing a large number of the productions.