ADC Bar
The ADC Bar is temporarily closed and will reopen later in the new year.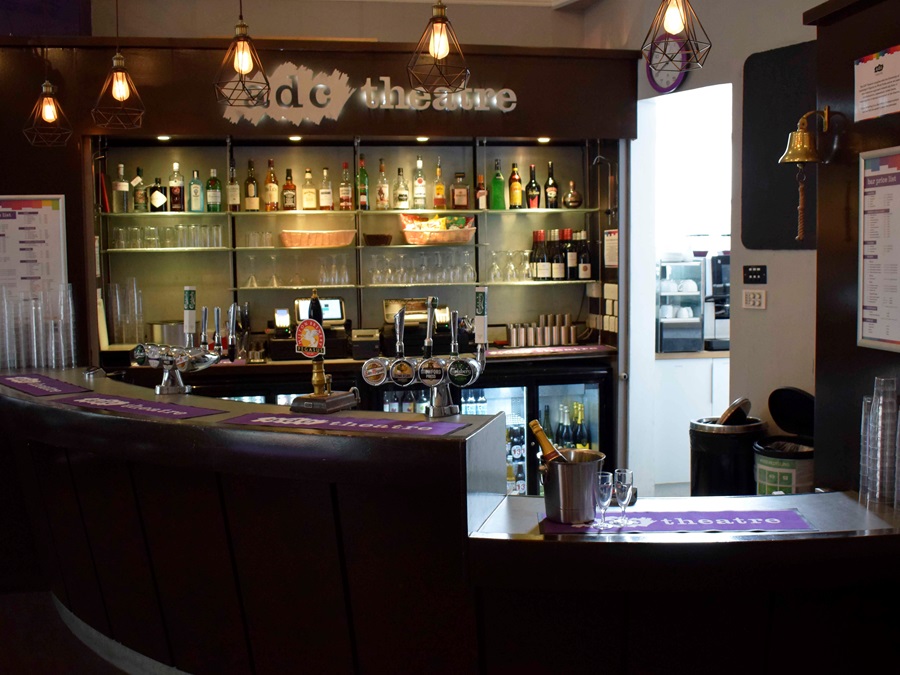 The ADC Bar will be reopening later in the year with a reduced order and collection service available for all ticketed customers.
When the theatre is able to reopen to in-person audiences in tier two, customers will be able to order drinks and snacks from the bar to take into the auditorium and enjoy during the show.

Pre-show and interval drinks can be ordered from the Box Office upon arrival at the theatre up to five minutes before the performance is scheduled to begin, and can be collected from a designated collection point in the bar before entering the auditorium. Customers should continue to observe the theatre's social distancing regulations and one-way system at all times. With sufficient social distancing, reduced capacity and ventilation measures in place in our auditorium, customers are permitted to temporarily remove their face coverings when at their seats in order to consume drinks or snacks purchased from the bar; however, customers are kindly asked to promptly replace their face mask in between.

A reduced menu will be available which can be viewed in advance on our website. This will include a range of beers and ciders on tap, a limited range of bottled drinks and a selection of wines supplied by the Cambridge Wine Merchants. A selection of soft drinks, and spirits and mixers including our esteemed show cocktail of the week will also be available. Our delicious Beechdean ice creams will also be returning, with a wide selection of flavours subject to availability. Interval ice creams can be pre-ordered from the Box Office before the show nad will be available to collect from the bar counter during the interval.

Payment should be by card or contactless only. Cash payments will not be available.

Drinks will be served in plastic receptacles which should be left by your seat or outside of the auditorium for recycling after the show.

ADC Friends and Fellows will be able to continue to enjoy exclusive discounts on all drinks and snacks from the bar, as well as £1 off ice creams. To find out more about joining our membership programme, visit adctheatre.com/membership.
Frequently Asked Questions
What COVID-19 safety measures will be put in place to allow the bar to operate?
- Social distancing markers and a one-way system is in place throughout the venue.
- 1m+ social distancing in the auditorium, alongside regular cleaning and natural ventilation.
- Mandatory face coverings for all customers and staff, alongside stringent hygiene protocols.
- Drinking receptacles will continue to be thoroughly washed and sanitised between users.
- The bar will operate as a contactless service.
What drink options will be available?
The ADC Theatre's bar will be serving a limited range of alcoholic and soft beverages as well as snacks, for customers to enjoy in the theatre during the show. The reduced menu is available to view on our website.
Will I be able to order a show cocktail?
Our signature termly cocktail menu themed around upcoming shows will be back, with a brand new show cocktail available to try each week. Customers will only be able to order that week's show cocktail.
Do I need to order food with my drink?
As a COVID-secure performing arts venue, the ADC Theatre is exempt from having to provide a substantial meal alongside serving alcoholic beverages. Therefore, you can enjoy a drink whilst seated in the auditorium without having to order food.
How do I get a discount at the bar?
ADC Friends are eligible for a 10% discount on bar purchases, with ADC Fellows eligible for a 15% discount. All ADC members and CUADC members are eligible for £1 off interval ice creams.
How do I order drinks for the interval?
The bar will not be open for sales during the interval. Any drinks or snacks for collection during the interval must be ordered at the Box Office upon arrival at the theatre. Your order will be available to collect from the interval order shelf in the bar. Our staff will be on hand to guide you through our one-way system to and from the bar.
Can I visit the bar if I am not seeing that evening's show?
Unfortunately, with present government restrictions, the bar will only be open for ticketed customers and a drop-in seated table service will not be available.
Can I remove my face covering in the theatre?
Face coverings should be worn at all times in the venue and can only be temporarily removed when seated in the auditorium to drink beverages bought from the bar. We kindly ask that all customers replace their face covering as soon as possible when not eating or drinking.
Can I sit in the bar to eat or drink my purchase?
Bar service will only be offered to ticketed customers for that afternoon or evening's performance. Drinks and snacks can only be consumed when seated in the auditorium.
Will communal tap water facilities be available?
There will be no self-service or communal drinks facilities available; however, glasses of tap water can be requested for free from the Box Office or Bar.
Can I order an ice cream for the interval?
Our delicious interval ice creams supplied by Beechdean are back! These can be pre-ordered from the Box Office before the show and can also be purchased from the bar counter. Please be aware that flavours are subject to availability and we cannot guarantee the availability of any specific flavour at the point of ordering.