The CUADC/Footlights Pantomime
Every year, students from the CUADC and Cambridge Footlights produce an original pantomime which plays to sold-out houses for two weeks.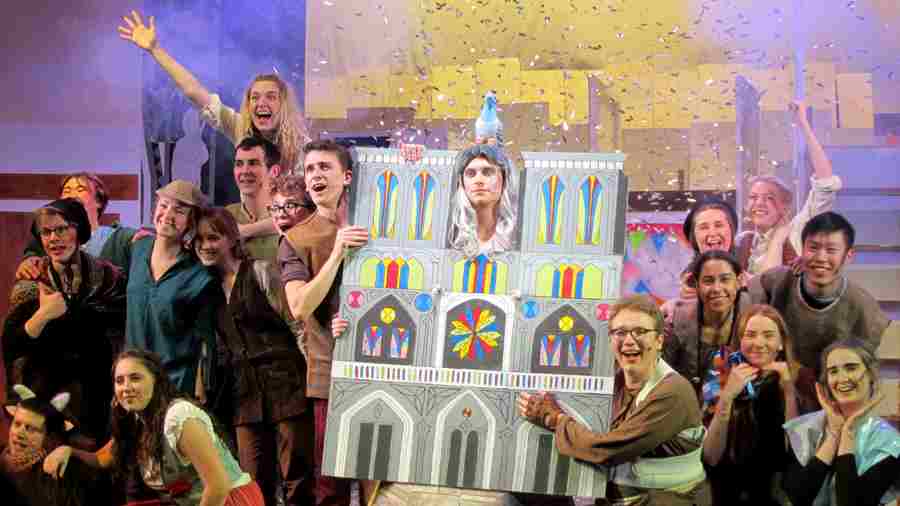 Every Autumn, the CUADC and the Cambridge Footlights produce a student-written Pantomime which performs in November and December. This is the largest show in the ADC's theatrical calendar and a great opportunity for an entirely original music to be performed to a sold-out auditorium!
The ADC pantomime has been a tradition since 1970 and have starred (or been written) by some of the rising stars in the arts world.
Check out some of our previous pantomimes below:
| | |
| --- | --- |
| 2020 | Sleeping Beauty |
| 2021 | Rapunzel |
| 2022 | Treasure Island |
| 2023 | Dick Whittington and his Cat |
| 2024 | To be announced soon... |
| | |
| --- | --- |
| 2010 | The Pied Piper |
| 2011 | Treasure Island |
| 2012 | The Snow Queen |
| 2013 | The Princess and the Pea |
| 2014 | The Emperor's New Clothes |
| 2015 | Robin Hood |
| 2016 | Rumpelstiltskin |
| 2017 | The Hunchback of Notre Dame |
| 2018 | The Gingerbread Man |
| 2019 | Red Riding Hood |
| | |
| --- | --- |
| 2000 | Treasure Island |
| 2001 | The Scarlet Pimpernel |
| 2002 | The Silliad |
| 2003 | Alice in Wonderland |
| 2004 | Great Expectations |
| 2005 | Spartacus |
| 2006 | Faust |
| 2007 | Once Upon a Time |
| 2008 | Theseus and the Minotaur |
| 2009 | Ali Baba and the Forty Thieves |
| | |
| --- | --- |
| 1990 | Ali Baba and the Forty Thieves |
| 1991 | Robin Hood |
| 1992 | Peter Pan |
| 1993 | Cinderella |
| 1994 | Dick Whittington |
| 1995 | Snow White |
| 1996 | The Sleeping Beauty |
| 1997 | Grimm Fairy Tales |
| 1998 | Sinbad the Sailor |
| 1999 | Sherlock Holmes |
| | |
| --- | --- |
| 1980 | The Snow Queen |
| 1981 | The Pied Piper |
| 1982 | Rumpelstiltskin |
| 1983 | Dick Whittington |
| 1984 | Aladdin |
| 1985 | Robin Hood |
| 1986 | The Three Musketeers |
| 1987 | Mutiny on the Bounty |
| 1988 | Rob Roy |
| 1989 | Sword in the Stone |
| | |
| --- | --- |
| 1970 | Cinderella |
| 1971 | Aladdin |
| 1972 | Dick Whittington |
| 1973 | Cinderella |
| 1974 | Babes in the Wood |
| 1975 | Robinson Crusoe |
| 1976 | Snow White |
| 1977 | Jack and the Beanstalk |
| 1978 | Aladdin |
| 1979 | Cinderella |