Consumables
The Theatre's Consumables store also stocks a range of theatrical sundries available for productions or purchase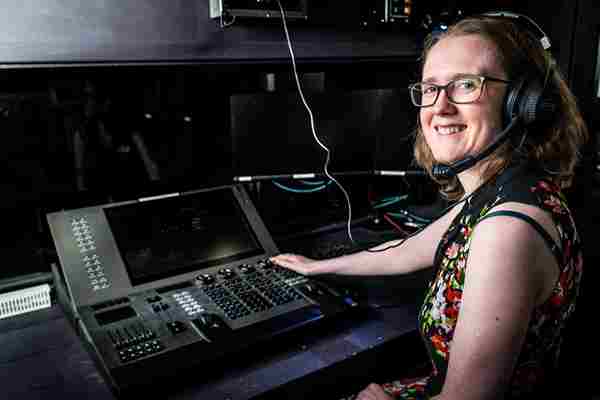 We sell theatrical sundries including set construction ironmongery, adhesive tapes and glues, lamps, drill bits and other toolage, rope and a wide range of Lee colour filters.
We are open daily from 11.00am until 6.00pm for the purchase of any of our stock. Please note we cannot accept credit or debit card payments: payment should be in cash or cheque payable to University of Cambridge.
View our price list for sundries. All prices are inclusive of VAT.
Tapes
LX tape (Black, White, Grey, Brown, Red, Blue, Green, Yellow, Orange, Earth, Purple)
Gaffer tape (Le Mark Magtape Matt, black and white)
Flamecheck flameproofing spray
1l bottle with spray applicator
5l bottle
Other
Duracell ProCell™ batteries
Sash cord
2 & 4mm nylon cord
Black wrap
Cable ties
Sharpies and Chinagraphs
Pipe lagging
1kW PAR64 (CP60/61/62)
T29 1.2kW
T19 1kW
T25 500W
T27 650W
HPL575 575W
GU10 50W birdie lamps
Ironmongery
Countersunk woodscrews 
Assorted hinges including Triple-E Pin Hinges and pins, as well as fixed butt and back-flap hinges. Prices starting from £1.20 per pair
M8 to M12 Nuts, nylocks and bolts in a range of lengths
Ring shanks, ¼ air staples, netting staples, air nails, cup washers and turnbuckles
Painting
Velour Black and White Base Rosco Supersaturated paint in 1L tubs
Brushes, rollers, trays
Sandpaper and discs for orbital sanders
Spares
Jigsaw, hacksaw and Stanley knife blades
Pozi No. 2 & 3 ¼ screwdriver bits
Drill bits from 1mm to 13mm in 0.5mm intervals, and countersink bits
The Theatre holds a large sales stock of Lee Filters. The following colours are regularly stocked at a price of £5.90 per sheet (0.53m x 1.22m). Other colours may be available pre-cut.
Lee Filters have a useful colour picker on their website
003
Lavender Tint
007
Pale Yellow
009
Pale Amber Gold
010
Medium Yellow
013
Straw Tint
015
Deep Straw
017
Surprise Peach
019
Fire
020
Medium Amber
021
Gold Amber
025
Sunset Red
026
Bright Red
027
Medium Red
029
Plasa Red
035
Light Pink
048
Rose Purple
049
Medium Purple
052
Light Lavender
053
Pale Lavender
058
Lavender
061
Mist Blue
063
Pale Blue
068
Sky Blue
071
Tokyo Blue
075
Evening Blue
079
Just Blue
085
Deeper Blue
089
Moss Green
090
Dark Yellow Green
101
Yellow
102
Light Amber
103
Straw
104
Deep Amber
105
Orange
106
Primary Red
109
Light Salmon
110
Middle Rose
113
Magenta
115
Peacock Blue
116
Medium Blue Green
117
Steel Blue
119
Dark Blue
120
Deep Blue
122
Fern Green
124
Dark Green
126
Mauve
128
Bright Pink
132
Medium Blue
134
Golden Amber
135
Deep Golden Amber
136
Pale Lavender
137
Special Lavender
138
Pale Green
139
Primary Green
140
Summer Blue
141
Bright Blue
142
Pale Violet
143
Pale Navy Blue
147
Apricot
152
Pale Gold
154
Pale Rose
156
Chocolate
157
Pink
158
Deep Orange
161
Slate Blue
162
Bastard Amber
164
Flame Red
165
Daylight Blue
166
Pale Red
170
Deep Lavender
174
Dark Steel Blue
179
Chrome Orange
180
Dark Lavender
181
Congo Blue
183
Moonlight Blue
192
Flesh Pink
195
Zenith Blue
197
Alice Blue
200
Double CT Blue
201
Full CT Blue
202
1/2 CT Blue
203
1/4 CT Blue
204
Full CT Orange
205
1/2 CT Orange
206
1/4 CT Orange
209
0.3 Neutral Density
216
White Diffusion
228
Brushed Silk
251
1/4 White Diffusion
253
Hampshire Frost
256
1/2 Hampshire Frost
281
3/4 CT Blue
345
Fuschia Pink
363
Special Medium B
711
Cold Blue
716
Mikkel Blue
764
Sun Colour Straw
767
Oklahoma Yellow
269 Heat Shield is also available at £9.10 per sheet