'Shakespeare Shorts' presents abridged versions of two of Shakespeare's most popular plays: 'The Merchant of Venice', and 'Twelfth Night'. So, what is it like for the actors playing two drastically different characters in one night, divided only by an interval? We caught up with Dan Aspel (Antonio / Count Orsino) for his take on the process.
Tell us about the characters you'll be playing.
On the surface they're very different people. Antonio (from The Merchant of Venice) is a wealthy trader and vicious antisemite, caught at the mercy of his enemy when his investments unexpectedly and comprehensively collapse. Orsino, meanwhile, is a man almost too self-indulgent to function. We meet him pining relentlessly for a woman in mourning that he barely knows and who rejects every attempt he makes to communicate with her.
 Does this mean they have nothing in common?
Not entirely, because in many ways they're both motivated ultimately by love. Antonio carries what could easily be interpreted as a romantic love for his friend Bassanio, the frustrations of which fuel both his hatred of Shylock and his recklessness in borrowing money from the same man whose usury he claims to despise. Orsino is also a character desperate for somebody (in his case anybody) to love. It's a happy accident that Viola, disguised as "Cesario", becomes a part of his life, and it's through her sincere and more grounded passions that he's rescued from his delusions and his egotism.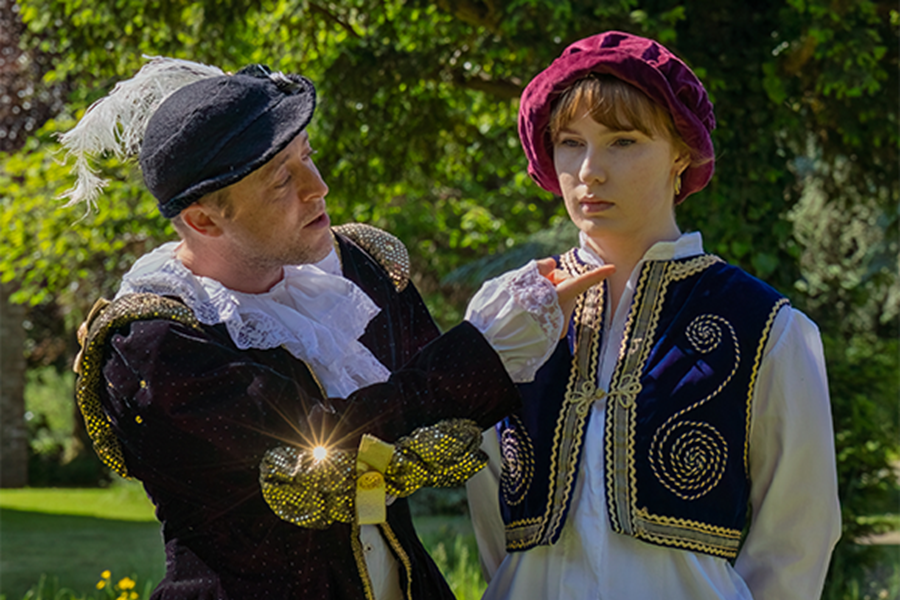 Which do you prefer to play?
It's harder to play Antonio. Trying to understand his prejudices is challenging, and although it can be satisfying to bite into lines dripping with malice you have to constantly try to find the humanity beneath it all. The challenge with Orsino is not making him so pompous that the audience sides against him! He's a much gentler character, and it's much easier to sympathise with his faults. Plus, his journey is one that leads to love and self-knowledge - so he can be played as gradually more vulnerable and more likeable as the play goes on. If I had to choose, then Orsino!
Is it easy to switch between these two characters either side of the interval?
I've found that two things have helped particularly. The first is the costumes. That much is self-explanatory. The second is voice and body language. It's a lot of fun to try and use a subtly different voice and movements to create the image of a different person. The only pitfall I've found is not making Orsino sound too much like Matt Berry. 
… actually, there are three things! Another cast member (Poppy Saunders, Viola) suggested the technique of making playlists that you think your character would listen to, which I absolutely loved as an idea. Orsino currently has a mixture of Roxy Music, Duran Duran, Foreigner and Crowded House. Antonio a collection of austere Renaissance chamber music.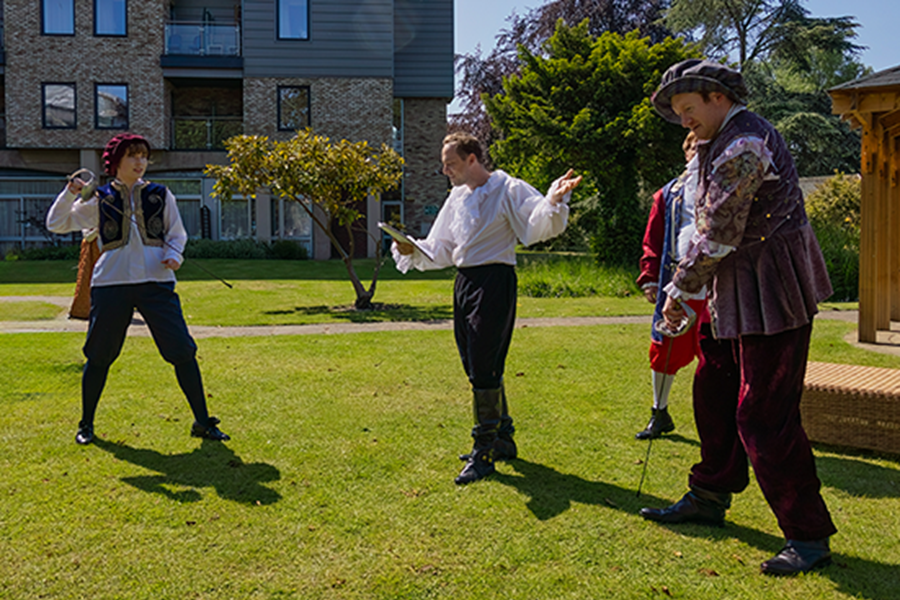 Finally, why should people come and see Shakespeare Shorts?
It can be an unforgettable experience to see a full, unabridged version of a Shakespeare play. But that's not for everyone. Whether you're new to Shakespeare, are bringing younger relatives, or just prefer your theatre slightly leaner, you're in for a real treat. Maddie Forrester, who's adapted the plays and Nick Warburton who has added narrative have done a first-class job, retaining the maximum amount of charm and interest, and keeping the stories concise and affecting. The cast is superb and you're going to be experiencing a greater variety of Shakespeare's dialogue and plots in two hours than through any other medium. You'll experience something dark, fascinating and memorable in the first half, then something blissfully funny and colourful in the second. It's going to be fantastic. 
Shakespeare Shorts: The Merchant of Venice and Twelfth Night
Tuesday 11 - Saturday 15 July 2023, 7.45PM
Saturday 15 July 2023, 2.30PM
Tickets from £11