Two regular attendees at the ADC Theatre - Barry Shapiro and Alan Punter - recall some of their favourite memories of seeing the esteemed Cambridge Footlights in action on the ADC stage.
As part of the Open Cambridge weekend I did a backstage tour of the ADC on Saturday 14 September 2019 - it was very interesting to see the backstage machinery for the flies, the dressing rooms, the committee rooms and other areas that the public do not normally see.
I did not know then that a few weeks later, when I attended the late evening Footlights show on Wednesday 9 October 2019, that I would end up on stage - picked out from the audience to come onstage and take part in a mime sketch (go fishing, play tennis, bake a cake and being hauled into court for "murder") whilst under increasing pressure from the cast to break my silence - which I finally did!
Alan Punter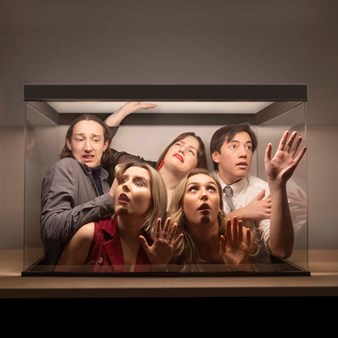 The cast of the Cambridge Footlights International Tour Show 2019: Look Alive!
In 1989 I moved to Cambridge for work. I'd read about the Cambridge Footlights in Clive James' 'May Week Was in June: More Unreliable Memoirs' and was very enthused.
Well the theatre is on the same road as the car park: I like that in a venue, even I can't get lost.
I arrived to a packed house and appear to be the only non-student in: am I allowed to be here? I hadn't thought that it might be closed to outsiders and decide to sink in my seat so that the ADC staff can't pick me out and bounce me.
But it was amazing: top, top class comedy. I think I remember Andy Parsons and Dan Mazer doing stand-up together but I could easily be conflating shows. The audience was brilliantly receptive. I think it was at a time when telly had just started to get bored with comedy as the new rock-and-roll and regional live comedy hadn't really started to kick in and here was the best comedy you could see anywhere, in my local student theatre.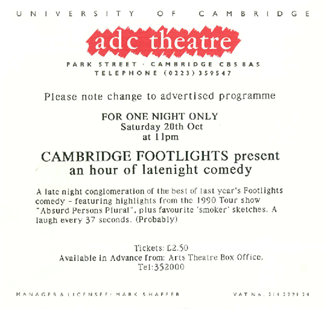 Advertisement for a late-night show presented by the Cambridge Footlights
At the next Smoker I attended, someone in the audience had brought in a chicken and during a sketch proceeded to throw bits of it at the stage. At the time it seemed like a great heckle: perhaps it was an old tradition.
Sarah Gold was my first total fandom and my first 'why didn't she go on to sell out arenas?!'
And now for my first panto: Ali Baba and the Forty Thieves which had the recurring line, "Where are the others" (it seems that they could only afford to cast three thieves). Sue Perkins was one of the three and during the interval she came into the audience and stole the coats of members of the audience who had gone for a drink. I think this show also had the loudest audience participatory YMCA with Perks YMCAing right in front of me.
Extracts from the programme for the CUADC/Footlights Pantomime 1990: Ali Baba and the Forty Thieves
Another time I recall seeing David Mitchell in a sketch where he played an old fella reading the classified ads and we see him dialling, "Hello you have an advert in the Sentinel for a two seater settee, I am just ringing to say that I am very happy with my existing one and I don't need to replace it". He then moves on to the next ad and starts dialling again.
During my first few years in Cambridge I saw every Footlights show. I love every square inch of Park Street and the ADC. Comedy grew to be everywhere but the Footlights still occasionally came up with something beyond great.
With thanks to Sarah Gold, Andy Parsons, Dan Mazer, Sue Perkins, Dan Gaster, David Mitchell, Henry Naylor, Sue Perkins, Matilda Wnek, Rosa Robson and the staff of the ADC Theatre (oh and Clive James).
Barry Shapiro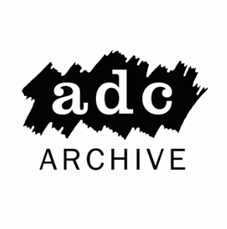 ADC Archive aims to collect and share your memories and personal experiences of the theatre. Whether you are a current student, alumnus, former employee, or patron of the theatre, we want to hear from you! To submit your story, or for more information, please send an email to archive@adctheatre.com. To view other submissions to the archive you can click here.

Whilst you are here
As with other theatres and small arts venues up and down the country, closing our doors has had a significant impact on our financial position. If you are able to consider making a donation to the ADC Theatre please click here.