ADC Theatre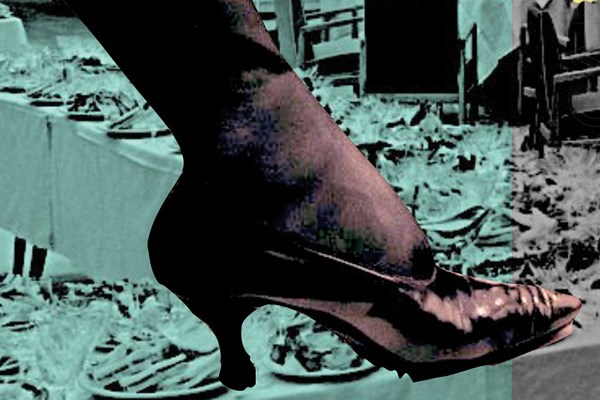 Tue 19 - Sat 23 October
Top Girls
Caryl Churchill
Content warning [May contain spoilers]
Please click on the words 'Content warning' above to see a list of content notes
Marlene has just received a promotion at her job agency and she's on top of the world. To celebrate, she hosts a dinner party for all her most interesting female friends. The strange part? Her guests include a thirteenth-century Buddhist monk, a Pope, and a figure from Flemish folk lore.

Top Girls stages Marlene's rise to success in the Thatcherite 1980s, from surreal dinner party chat, her thriving job agency, and all the way back to the family she left behind. Top Girls questions whether successful women can truly be allowed to 'have it all'.
This amateur production of Top Girls is presented by an arrangement with Concord Theatricals Ltd.
Reference to sexual assault
Discussion of coercive power dynamics in relationships
Discussion of abuse (mental, physical and sexual)
Discussion of death and dying
Sexism
Brief anti-Asian bigotry
Mention of chronic illness
Discussion of pregnancy and childbirth
Discussion of miscarriages and abortion
Brief reference to eating disorders
Reference to animal death
Blood
Threat of violence/murder
Depiction and discussion of alcohol abuse
Discussions of war
Brief reference to mental illness and time spent under psychiatric care 
The ADC Theatre is Britain's oldest University playhouse, today administered and maintained by the University of Cambridge. Plays have been presented on the site since 1855, when the Cambridge University Amateur Dramatic Club (CUADC) was founded, and the society met and performed in the back room of the Hoop Inn, which stood almost exactly where the ADC Theatre stands today.  Today, the ADC Theatre is the centre of University drama in Cambridge, run almost entirely by students with no Faculty involvement. 

Access
When you arrive at the ADC Theatre, there are power assisted doors to the Box Office. In the foyer there is a lift which leads up to the bar and auditorium. The accessible toilet is located on the ground floor across the foyer. 
The ADC Theatre is conveniently located near the Park Street Car Park, which has 7 disabled parking bays.
If you are booking a wheelchair seat in the ADC auditorium for the first time, please call the Box Office on 01223 300085 or email access@adctheatre.com. We will then alter the permissions of your ADC account so that you can access the wheelchair seats on our website when you book in the future. 
Complimentary tickets are available for full-time carers.
The ADC Theatre and Corpus Playroom is fitted with an infra-red audio system designed to help deaf and hard of hearing patrons. If you are using the system for the first time, please arrive early and seek advice from our Front of House team.
Assistance dogs are welcome in both of our venues. Please call the Box Office or email the above address when booking to ensure you are seated appropriately.