The creatives of our upcoming production of Urinetown have come up with a dramatic visual identity in this show, and a fantastic set design. We chatted with set designer Suzanne Emerson and costume designer Liz Milway to ask them all about bringing this comedy dystopia to life.
What's your background in set/costume design?
Suzanne Emerson: I've been a director of musicals in the community/amateur world for years, and you don't normally get a set designer. As a director, I took on that role without really realising it. I decided that I wanted to do something more interesting with my life, and thought set and costume design would be really cool, so I studied for a degree in it and graduated last year from Central School of Speech and Drama. Now, I'm trying to make my way as an early career set and costume designer in London.
Liz Milway: I've always made clothes, and have asked to help out with shows since my kids were little. It grew from there!
How long have you been involved with Festival Players?
SE: I joined 20-25 years ago, and have been on the committee for nearly 20 years. I've directed quite a few musicals for them, including The Scarlet Pimpernel, Parade, Chess, and Cats.
LM: I made pantomime dame costumes for our local village, and when Clive Burrow directed Kiss Me, Kate for Festival Players in 2004, he asked me to come and do costumes for the show.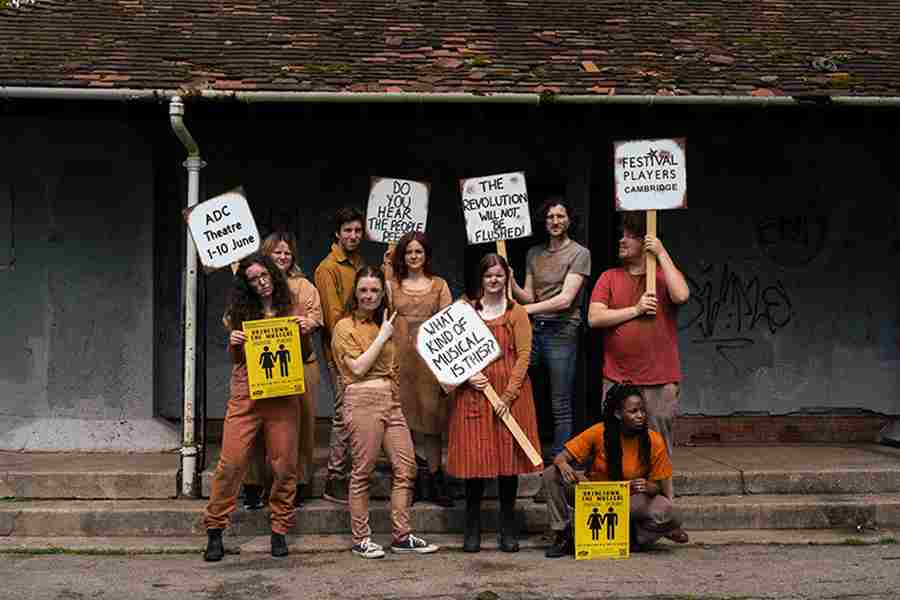 What was your vision for this show?
SE: Urinetown has quite a cartoony feel, so we leaned into that. We didn't want to feel that it was a Disney cartoon, so one of our major influences was Paul Ribera. He does these grungy, macabre drawings, so we wanted to draw on that.
LM: We've got two groups of people, the rich UGC people, and the poor. And we wanted it to be like a comic strip, so obvious who is who. I love the poor costumes, I love distressing the clothes, though these days it's quite difficult to get anything from charity shops that aren't really nice, so it's been quite a bit of effort to make everybody look grimy and sad.
SE: There were also some very practical things that we needed to achieve. We need height in the set for [SPOILERS], we've got two very different worlds; the wealthy world of the Urine Good Company who are in pale blues and whites, and then the dirty underworld of the poor, who are in rich oranges and burnt desert colours.
Justin [Murray, the director]'s done a huge amount of work putting the theme of death and afterlife into the aesthetic of the show, directing as though the cast are being brought up from the underworld to perform the show. Water and life are inextricably linked, and we wanted to bring in environmental issues without hammering it home too much.
The set is like a playground. There are lots of silly chase sequences within the show, so we've got lots of places where people can crawl through and climb up and run across.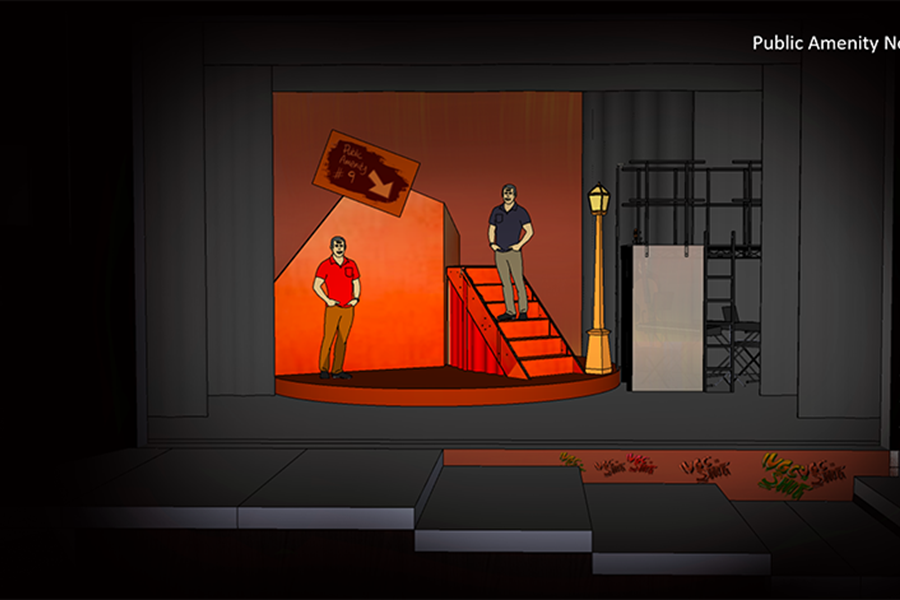 What are you most looking forward to seeing come to life?
LM: Cladwell's final costume. No spoilers, but it's been great fun to do, and I hope it makes everyone smile.
SE: We have a revolve in the set, which was something we decided on really early on in the process. Because we have these two very different worlds, I really loved the idea of transitioning between them flexibly, rather than just throwing a desk on, and now it's an office. It's so dynamic, and we have one song that comically spins through multiple locations.
I'm also looking forward to seeing how the lighting interacts with the revolve and transitions. Luke [Marino, our lighting designer] is going really strong on the colour palettes for the different worlds. Luke also studied at Central School, and has been working at the Covent Garden Opera House and with the Really Useful Group.
The forestage is being set up as an asymmetric staircase, so it's going to be such a dynamic visual.
Urinetown
01 - 10 June 2023, 7.45PM
10 June 2023, 2.30PM
ADC Theatre
Get your tickets here!
Meet the cast of Urinetown over on our blog here.